Toilet Overflows at Area Restaurants
7/21/2022 (Permalink)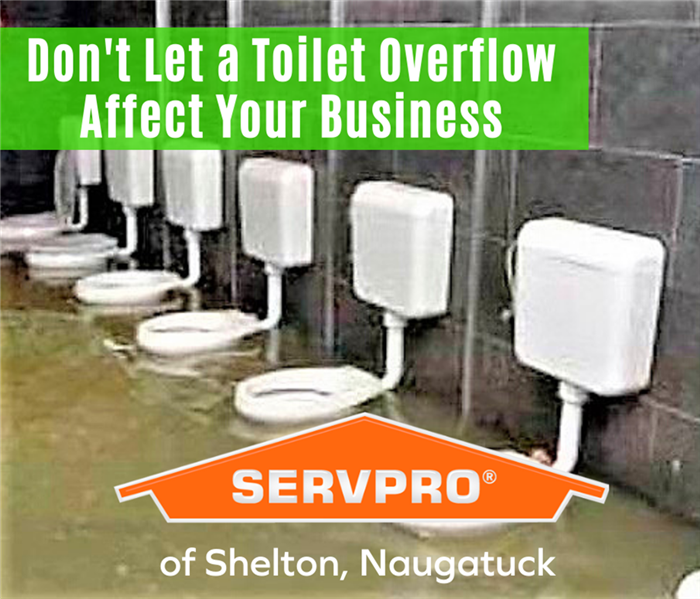 The plumbing system in your busy restaurant receives a lot of wear and tear.
Because of the number of people filtering in and out of the bathrooms all day long, it is essential that you keep up with plumbing repairs and maintenance.
We know that water disasters can still occur despite being vigilant about the upkeep of your facility. If you do have a flood in your public bathroom, the clean up and restoration must be handled quickly and professionally so that your business continuity is minimally affected.
The time to call SERVPRO of Shelton, Naugatuck is immediately upon the discovery of a bathroom flood.
We understand time is of the essence in these situations and have crews ready to quickly respond to your call. Once we have removed any standing water, we examine the flooring. In a typical restaurant bathroom that has ceramic tile installed, the tiles and grout joints are water resistant when they are installed over plywood. However, any cracks make the tile and underlying subfloor vulnerable to water damage.
Oftentimes, the tile itself may not be damaged but the water will have penetrated the grouting, causing the subfloor to warp or expand. This can cause the tiles to break apart at the joints and come loose. To check for moisture under ceramic tiles, SERVPRO technicians use a non-penetrating meter. It might be necessary to dry the floor from the bottom or to drill holes into the floor so we can adequately monitor the drying process.
SERVPRO of Shelton, Naugatuck wants to get your Oxford area eatery open for business as quickly as possible however our number one priority is doing the water damage restoration job right the first time so that you don't experience any secondary problems, such as mold.