Board Ups, Pack Outs and Content Management
4/19/2022 (Permalink)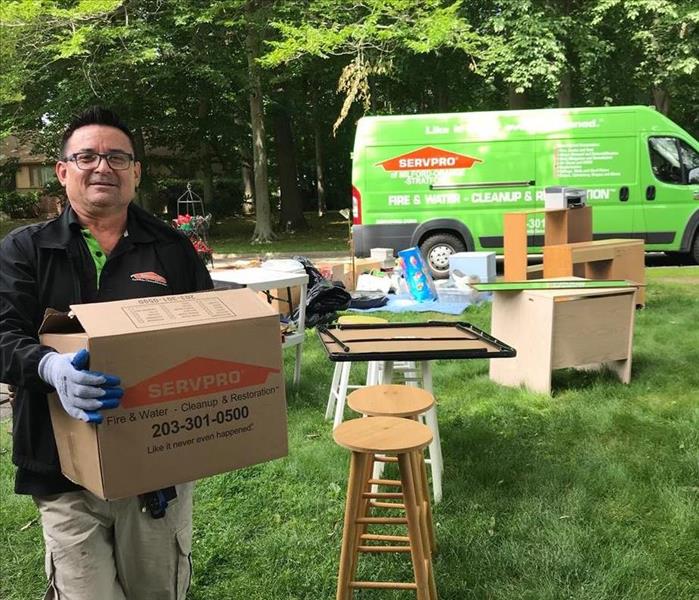 When your business or home has had a fire, the restoration process involves more than the structural restoration of your home.
In addition to cleaning the smoke from the air in your home and the soot off of the surfaces, SERVPRO of Shelton, Naugatuck offers the following services:
Board-ups
In many cases in which there has been a fire, it is necessary to secure the openings of your home, such as the windows, doors and the roof. Our team uses sturdy, durable materials designed to protect homes from both the outside elements such as rain and snow as well as intrusion by outsiders. This is often one of the first actions we will take when we arrive at the job - even if it's in the middle of the night.
Pack-Outs
After a fire, it may be necessary to move some or all of your personal belongings and furniture out of your home. This may be to protect your contents, to make the restoration and rebuild of your home easier and also in order to clean your things off site. Our franchise offers a pack out service and also has a dedicated storage facility in which we can store your items. Items such as carpeting, electronics, artwork and furniture might be restored off site by our technicians.
Inventory
When your home or business has experienced a fire, it is important to take an inventory of the contents inside prior to anything being discarded or packed up. At SERVPRO, we use a system called the Contents Claim Inventory Service (CCIS), which allows us to generate comprehensive room-by-room inventories. As we go through the items , we will categorize the contents as salvageable, non-salvageable and questionable. This allows for easier contents settlement with your insurance company.
Home fires are devastating. The restoration process doesn't have to be.