Why the Type of Flood Water Matters
6/1/2022 (Permalink)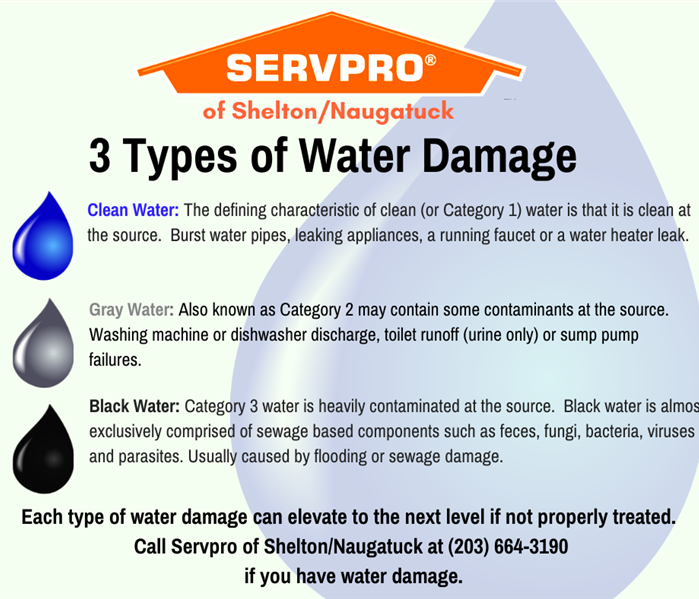 Our approach to treating water damage in Connecticut homes depends on which category it falls into.
CAT 1 or Clean Water
Clean water is just that- water that has come from a source that is not contaminated. Examples of this would be a pipe bursting or a refrigerator leak. Also, if you have a leak that allows rainwater in through your roof, it is considered clean. The biggest hazard clean water presents is if the area that has been damaged is not properly cleaned and dried. This can result in mold and fungus growth.
CAT 2 or Gray Water
Gray water is water that is slightly contaminated, either because of the nature of the source or because of neglect. For example, clean water can become "gray" water if it is left untreated for an extended period time. When a toilet or washing machine overflows, the resulting water would be considered gray because of its source. Toilet overflows containing urine only are considered gray.
CAT 3 or Black Water
CAT 3 water may include bacteria, chemicals, pesticides, microbes and more. Sewage based components such as bacteria, fungi, feces, viruses and parasites. Black 3 water situations are usually caused by sewage backups or overflows and flooding.
Since the human eye cannot see bacteria, it is not always obvious whether the water in your home is a CAT 2 or CAT 3. If you experience a flood from a heavy rain, the water may look "clean," but if there is any ground water that has backed up into your home as a result, there may be invisible microbes lurking in the water.
Any water damage that is not treated correctly will eventually elevate to the next category. Even a simple pipe burst can turn into a mold issue if not treated. If you have any water damage in your home, give us a call at (203) 664-3190 for service that you can count on.