HVAC Causes Water Damage
7/16/2022 (Permalink)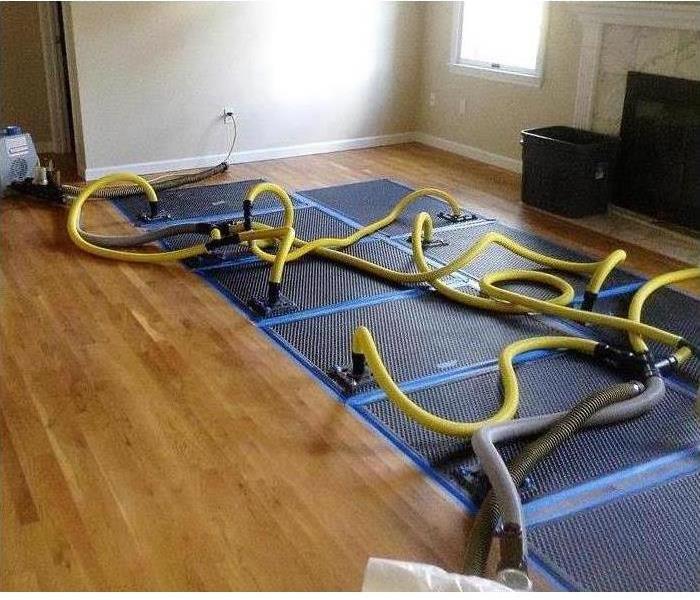 Has an air conditioner leak causing water damage to your home?
Air conditioners are known to leak – whether from a dirty filter, a malfunctioning pump, a cracked drain pan or even a damaged evaporator coil. We've seen this cause significant water damage to New Haven area homes. It can soak sheetrock walls and ceilings as well as insulation and carpeting.
If you have flooding from an A/C leak, your first course of action is to shut the unit off and call your serviceman to identify and repair the problem. Then, call SERVPRO of Shelton, Naugatuck to clean it up. When we receive your call, our office will send a team out to inspect the situation and immediately start the restoration work.
To treat water damage caused by air conditioning units, our treatment plan will likely include water extractors to remove any standing water as well as water that has soaked into carpets and upholstery. We also treat water damage events with air movers and dehumidifiers to remove the moisture out of the air and expedite the drying process. We use our floor mat extraction system to remove the moisture from wet wood and tile floors. This system utilizes a strong suction by use of mats, which are attached to a vacuum with hoses, allowing the vacuum to draw out moisture from underneath the floor.
Our services include the removal of any damaged and unsalvageable materials such as wet sheetrock, flooring and damaged baseboards. Our building services team is CT licensed to rebuild the damaged portions of your home. This might include repairing and painting walls, installing new flooring or even a complete rebuild of your home if necessary.